How to Start Working Out (or Come Back From An Injury)
A few years ago, I was diagnosed with chondromalacia patella.  Basically, I have the same knee problem at Chase Utley, but without the millions of dollars or the Phillies contract. All of a sudden I was forced to reassess my fitness goals. I couldn't do much without pain, but didn't want to give up on working out. So, instead, I came up with a new kind of fitness plan.
 "The Something Is Better Than Nothing Plan." 
(It's not patented yet, so don't rip me off.) It's simple, I swear.  Just follow the 6 steps below.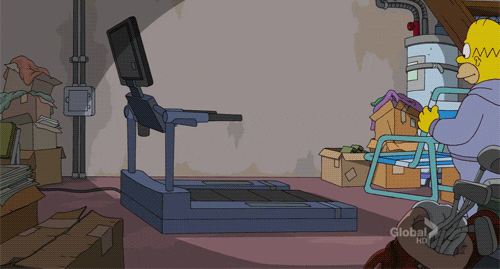 1. Do SOMETHING.
The idea is just that.  It doesn't have to be major. You can go for a mile walk! Which is better than nothing. You can go for a jog around the block. Which, consequently, is better than nothing.  You can do 10 pushups. I think you get my point here.
2. All you have to do is start.
Starting to make fitness a part of your life can seem daunting, but here's the thing, you won't have a 6-pack tomorrow and you won't gain 100 pounds of muscle by next week. This stuff takes time. But all you have to do is start.
3. Keep your goals manageable. 
This is key. You're not going to go from never working out to working out 6 days a week and only eating salads. That sets you up for failure.
4. But DO commit to something.
Make yourself a plan. Maybe it's "Pick a workout to complete 2 days a week." Boom. You're already doing more than you were. Once you start feeling better, once you make working out a part of your day and not an added stress, it becomes so much easier.
5. Treat working out as an important piece of your day.
Make it a priority. Schedule it if you need to. "From 3-4, I'm working out, whether it's running, walking, doing a workout video, or a set of crunches on the floor – I am doing something for my health!"
6. Work out with other people for motivation.
If you need motivation and don't want to work out on your own – you don't have to. Not ready to take a class? Use Youtube videos that have someone doing the workout with you. (I've done this
H.I.I.T. Cardio and Abs Workout
 before and she works out the whole time with you – timing and demonstration are all taken care of.)
Once you feel ready to take a class, it has a lot of benefits:
1) You will be less inclined to skip the workout if you've paid
2) You'll be less likely to quit once you're there
3) You'll have the energy of the people around you to keep you going
4) Any questions you have about form will be quickly addressed
5) Meeting people in class is a great way to keep yourself going
I love my gym family, my soccer family, and my
boot camp
family. Some days, I'm only going for them.  Find some classes you're interested in and ask a friend to join you. Maybe your friends are already in a great running club you can join. Ask around!
A few final thoughts: 
NO ONE wants to work out every day. Anyone who says that is a liar and has never eaten French fries and hates fun.
Another thing, you will never regret working out. Nope, don't try to question it. It's true. Once you start getting into the routine, you can assess your workout goals and structure your workouts. For now, just start sweating.
There are great fitness resources available in your neighborhood.
Be Well Philly
always has great options for healthy eating, workouts to do in a pinch, and fabulous and free classes around town.
If you care to join my boot camp family, you can check us out
here
 and get a free trial. Now that's motivation…working out with friends for free.